In the summer of 2007 my father Daniel and I took a week-long backpack trip together in the Maroon Bells in western Colorado. He wouldn't be diagnosed with Parkinson's disease for another year, but this trip was the first inkling I had that something was wrong. There were just a few hints during a demanding excursion that covered more than fifty miles and two peaks over 14,000 feet.
Dad seemed more anxious than I expected during our preparations. He had always stewed over food and gear choices and worried that his pack would ravage his hips, but this time had an edge of intensity that seemed new. Even his enthusiasm for his supply of wax-covered "backpacker's" chocolate was dwarfed by worries that he would not have enough food, yet it was still too heavy. Did I even have to talk him out of shortening or canceling the trip? The memory has faded a bit. Now I know that Parkinson's disease is associated with anxiety and depression, both of which would continue to hound my father. His love of wildflowers proved to be a good antidote, though. We got a big dose on this trip.
Our first stop was a visit to the final resting place of our beloved dog Schroedinger. Dad brought him here on a solo trip when he was suffering from a tumor, and this was the last place Dinger rested his loyal head. Dad wrote a long poem to him in tribute, which I may post as its own memory. This visit cast some poignancy on the rest of our journey.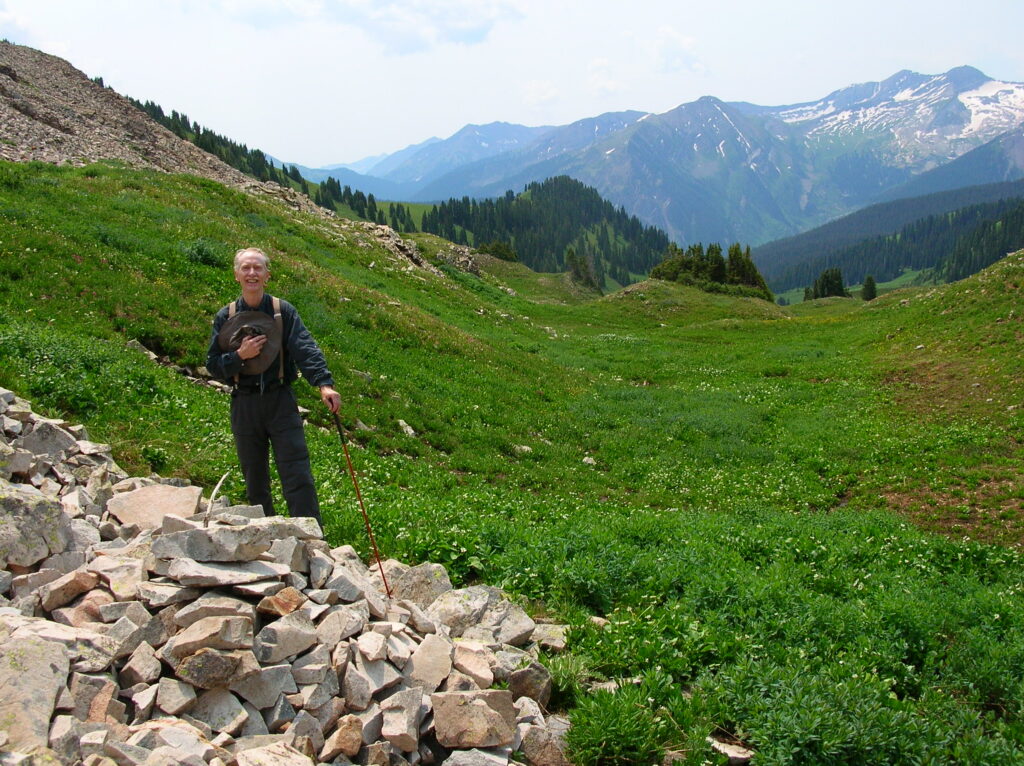 Our campsite would serve as basecamp for the next day's objective: Capitol Peak, a climb notorious for an exposed traverse of a "knife edge" ridge. We had a beautiful meadow to pitch the tent in, though we did have to share it with a resident population of marmots. There were no trees, so we spent a good part of the afternoon figuring out a way to hang our food from a rock.
Our climb of Capitol peak is the last I remember with my father where he seemed unfettered and in his element. We navigated the thrilling knife edge traverse slowly and carefully. Sitting on the summit together I got a slight premonition, a feeling that this was special, somehow unlike the many other peaks we had climbed together in a way I couldn't define.
When we returned to camp, we found a marmot-sized hole chewed through the tent door. Our food was still hanging safely on its boulder, but looking inside the tent Dad found he had forgotten something. In one of the tent pockets was a hunk of waxy backpacker's chocolate with a perfect imprint of giant marmot teeth. Apparently it wasn't worth a second bite, and there was no further damage.
We managed to cover more miles of big terrain and summit Snowmass Mountain with only a bit of extra bushwhacking caused by my imperfect navigation. It was on this section that something new happened. Dad fell off a pretty stable log crossing, landing on his feet in the creek. He seemed shocked and confused by the fall, though there were no serious consequences. Loss of balance is also an early symptom of Parkinson's. This may have been an early betrayal of his nervous system. Was it just luck that it happened on this creek crossing and not on the knife edge?
We soon forgot this little incident as we found ourselves once more surrounded by mountainsides of wildflowers. Making our way back out of the mountains, our hearts gathered strength to finish this journey and begin the next one.